SKINS SERIES-3 MEN'S HALF TIGHTS NAVY BLUE
Compression Level
The real workhorse in your SKINS compression arsenal. Designed for a spectrum of medium-high intensity activity, our signature SERIES-3 Half Tights offer a medium compression profile with firm support for the glutes, quads and hamstrings, whilst reducing muscle oscillation.
Although we try our best to display our products in their true form, the actual product colour may vary from the images shown. Every monitor or mobile display has a different capability to display colours, and every individual may see these colours differently. In addition, we're always working on improving SKINS garments, so seam lines may differ from those shown.
-Medium compression profile for everyday comfort and support -Side mesh panel pocket for smartphone storage -Silver reflective logos  -76% Nylon, 24% Elastane -Manufactured in Madagascar
-Track and Field
-Road Running
-Trail Running
-Strength Training
-Gym
"HIGH QUALITY PRODUCTS THAT FEEL GREAT AND MAKE YOU WANT TO GET OUT AND EXERCISE, BEST COMPRESSION GARMENTS ON THE MARKET."
The Half Tights Offer TARGETED compression support for major muscle groups, including the glutes, quads and hamstrings. A reduction in muscle vibration and distortion during activity INCREASES comfort to IMPROVE performance.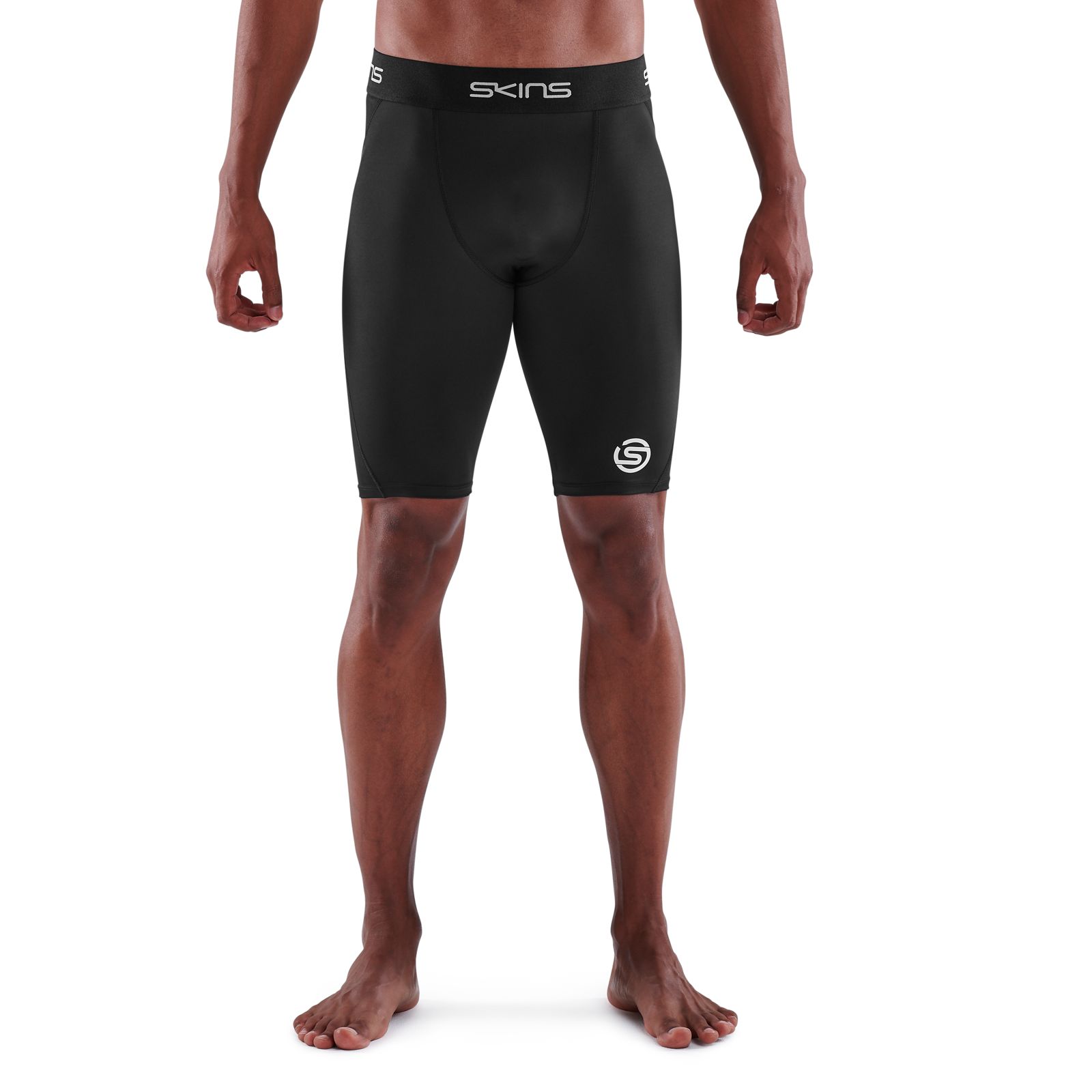 DID YOU KNOW?
Firm support for the glutes, quads and hamstrings reduces muscle oscillation and fatigue for optimised performance. 
JUST SOME OF THE BENEFITS
– Accelerated Circulation
– Antimicrobial
– UV 50+ Protection in non-mesh areas
– Reduced Muscle Oscillation
– Moisture Management
WHAT DOES SKINS COMPRESSION SPORTSWEAR DO?
SKINS aren't clothes. They're that extra edge sought by contenders. Every day and elite athletes around the world rely on SKINS to train harder, perform better and recover faster.
Stay dry & comfortable during training.
Increased blood flow is the key to athletic excellence.
Reduces muscle vibrations and fatigue.
Maintain optimal training temperature in all weather.
You can't hide from the sun, but we'll keep your skin safe.